In-Home Therapy Solutions
"In-Home" means Attune will come to you, in the setting that is most comfortable for you or your loved one. We can offer effective Physiotherapy and Occupational Therapy sessions in a home, retirement residence, in a Long-Term Care home, or in a hospital setting. We serve the Halton and Peel Regions.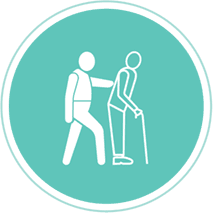 We provide thorough assessments and individualized treatment programs to manage your injury or condition and help you heal. Attune's friendly and skilled therapists use a hands-on approach to care and educate with specific strategies that maximize your recovery and function.
We offer In-Home Physiotherapy Services for a variety of orthopedic injuries and musculoskeletal conditions such as arthritis, post-surgical care including fractures and joint replacements, as well as back/neck injury prevention and management. Our therapists also address various neurological conditions including Cerebral Vascular Accidents (Strokes), Parkinson's disease, and Multiple Sclerosis.
If you prefer to be seen in a clinic setting, contact Core Therapeutics in Mississauga, Ontario at 905-858-8000 to make an appointment directly with Jim Salituri, Reg. P.T.
Physiotherapy Services Include:
1:1 Physiotherapy Treatment Sessions – 1 hour or ½ hour in length
Customized Exercise Programming with a Registered Physiotherapist
Balance Re-Training & Fall Prevention Strategies
Manual therapy
Acupuncture
Custom Orthotics
Education for clients, including family members and caregivers as needed
Occupational Therapy Services
A one-on-one Occupational Therapy consultation session will identify priorities and set goals to help a senior or aging parent make plans for the future. Give Attune a call to book your first 30-minute consultation at no charge, or consider attending one of our Caregiver Educational events.
Occupational Therapy Services include:
Home Safety & Falls Prevention
Work with Attune to create and implement a customized Falls Prevention strategy for your loved one. Falls among older adults living at home are a fairly common occurrence. They can also be life changing, and may result in a severe injury or hospitalization. The good news is most falls are preventable, and we can help.
 Home Accessibility
Many people hope to stay in their own home or "age-in-place" as they get older. We work with you to make informed choices around adaptive equipment purchases and accessibility renovations both for present and future needs.
Mobility Assessments & Accessing Government Funding
Selecting the correct walker or wheelchair can be quite a daunting task, especially when faced with the endless options available on the market. A Functional Seating & Mobility Assessment completed by an experienced Occupational Therapist will help you to navigate through this process and choose the mobility device that is right for you! Once eligibility is determined, the application for funding through Ontario's Assistive Devices Program (ADP) will be completed.
Assisted or Transitional Living Evaluation
Making the transition back home following a hospitalization can be quite stressful for seniors and their family members. Our Transitional Living Evaluation will help you make an educated decision about you or your loved one's living situation that takes into consideration the breadth of adaptive equipment and services, living options and the potential for changing needs.
ADL (Activities of Daily Living) and Cognitive Assessments
Independent seniors may become frustrated when daily tasks become a struggle. Conditions such as Arthritis or Dementia can have an impact on functional ability. An ADL or Cognitive   Assessment is an excellent starting point to identify specific needs, strategies and supports that will enable independence with daily tasks and routines.
Accessing Additional Funding & Services
We can assist with the completion of necessary forms, letters and applications to access funding or services via government agencies, service clubs or insurance companies. Contact us to request completion of applications for Accessible Transportation Services and Accessible Parking Permits.
Pricing For In-Home Physiotherapy & Occupational Therapy Services
Adults
$120 per 60 Minute Session
$100 per 45 Minute Session
$80 per 30 Minute Session
Contact Attune to arrange your In-Home Therapy session